The New Digital: Born in Chicago
SATURDAY, AUGUST 14 - SUNDAY, AUGUST 22
As an emerging hub for digital art and NFTs, "The New Digital: Born in Chicago" showcases the many ways Chicago inspires creativity — from the city's architecture, to the culture of the Midwest, and its vibrant neighborhoods.

This genesis exhibition from imnotArt Chicago features seven artists who were born or raised in Chicago, each with work reflecting a unique aspect of this great city.  Together, starting with this exhibition, we are building something special right here in the 312. Welcome to The New Digital.

All work from this exhibition will be displayed both physically and digitally in our Cryptovoxels virtual gallery. By showcasing NFTs in both our physical and virtual galleries, we hope to model the potential of digital art to serve as a bridge between these previously separate sites of social and cultural experience.
​​​​​​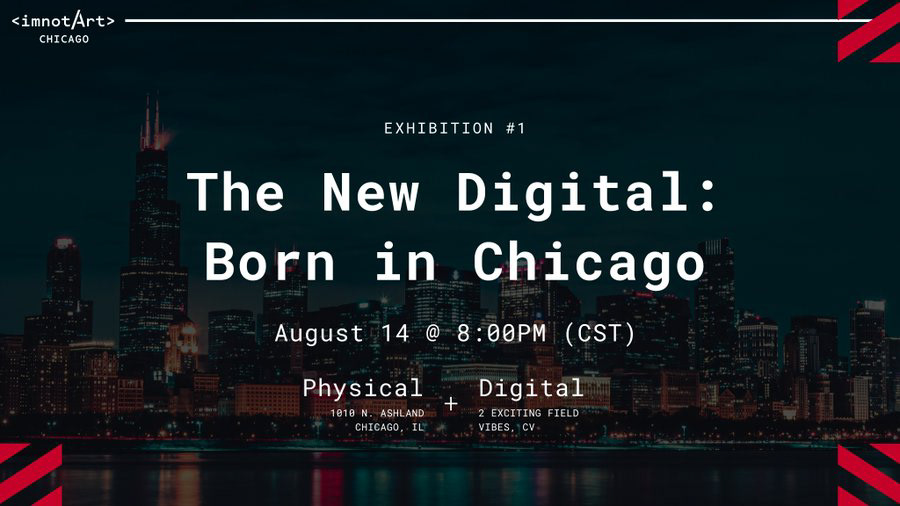 Exhibition Dates: March 19 to March 27, 2021
You are about to witness the result of three months of anonymous creation from artists all over the world. We welcome in 21 brand new artists to the LOCUS project and welcome back one previously featured Alum! The work spans from photography to collage, painting, sculpture and more. You are in for a real treat.
Working with these artists was such a breeze. Everyone went through the project with absolute enthusiasm and appreciation for the work they received and the work they then chose to share. Our literary artists started the process by sharing a new or existing work and the visual artists responded with a brand new artwork - all anonymously paired and communicated! The LOCUS experience is best taken slowly, pair by pair. I, personally, love to play the audio version of the written works while having the visual artworks pulled up on the screen. The reaction videos, of course, are not to be missed.
All works that are for sale are indicated and 100% of the sale profit goes directly to the artist. Otherwise, you can show your appreciation by tipping artists via their Venmo, PayPal, or CashApp information listed in their bios at the bottom of each pairing page.
Finally, we'd love for you to join us for our closing reception next Saturday, March 27th! We will share the success of the show and our Board Member team will announce the LOCUS: VI visual artist recipient of our micro-grant program to put toward whatever they need in their life to open up more space and opportunity for their practice.
Click Image Below to Enter

↓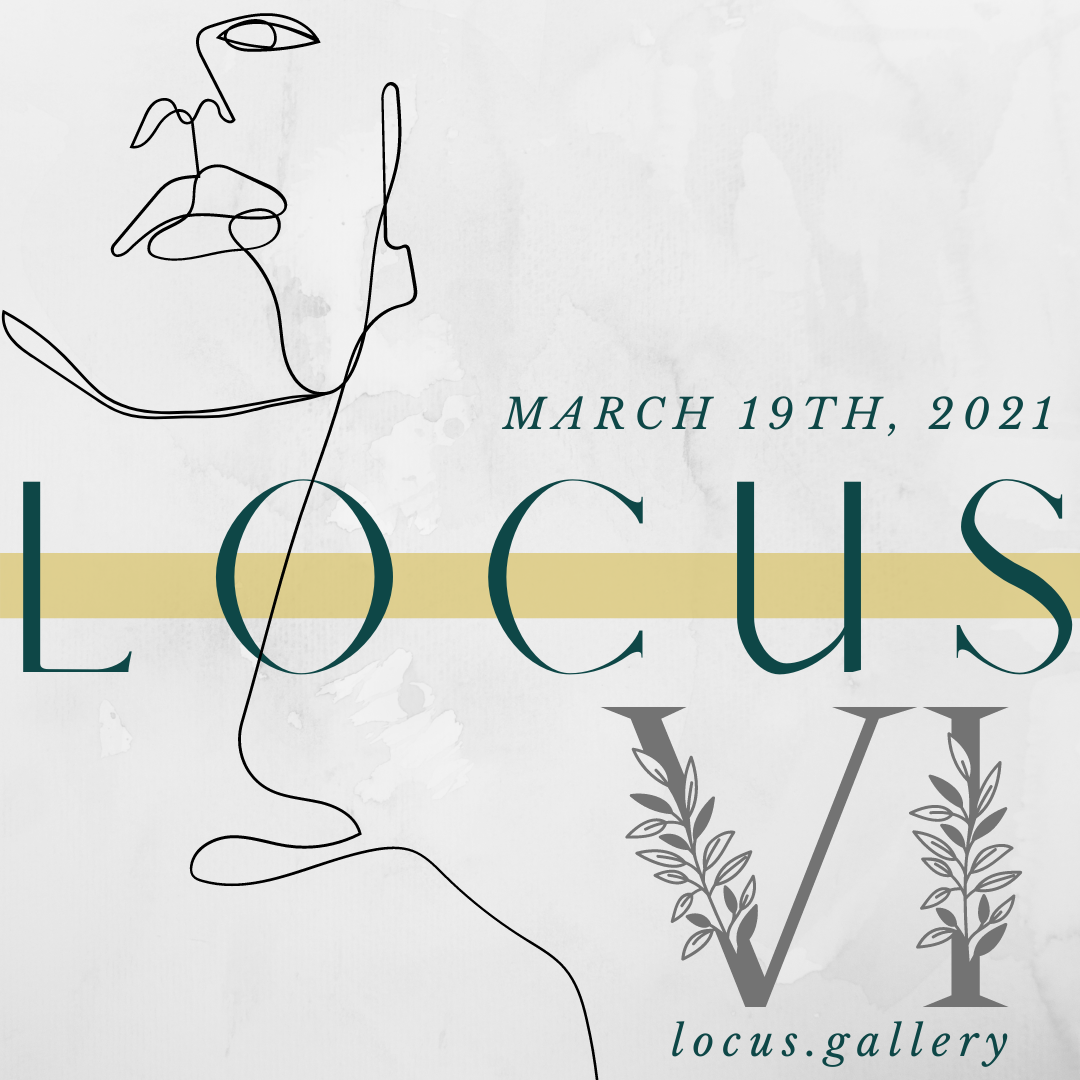 An online exhibition experience curated by Sergio Gomez exploring "red" as a symbol, emotion, force or attitude in today's culture. Red is love and blood at the same time. What does red evoke in you? We want to know through your art.
Exhibition Dates: February 14 to March 30, 2021
Click Image Below to Enter

↓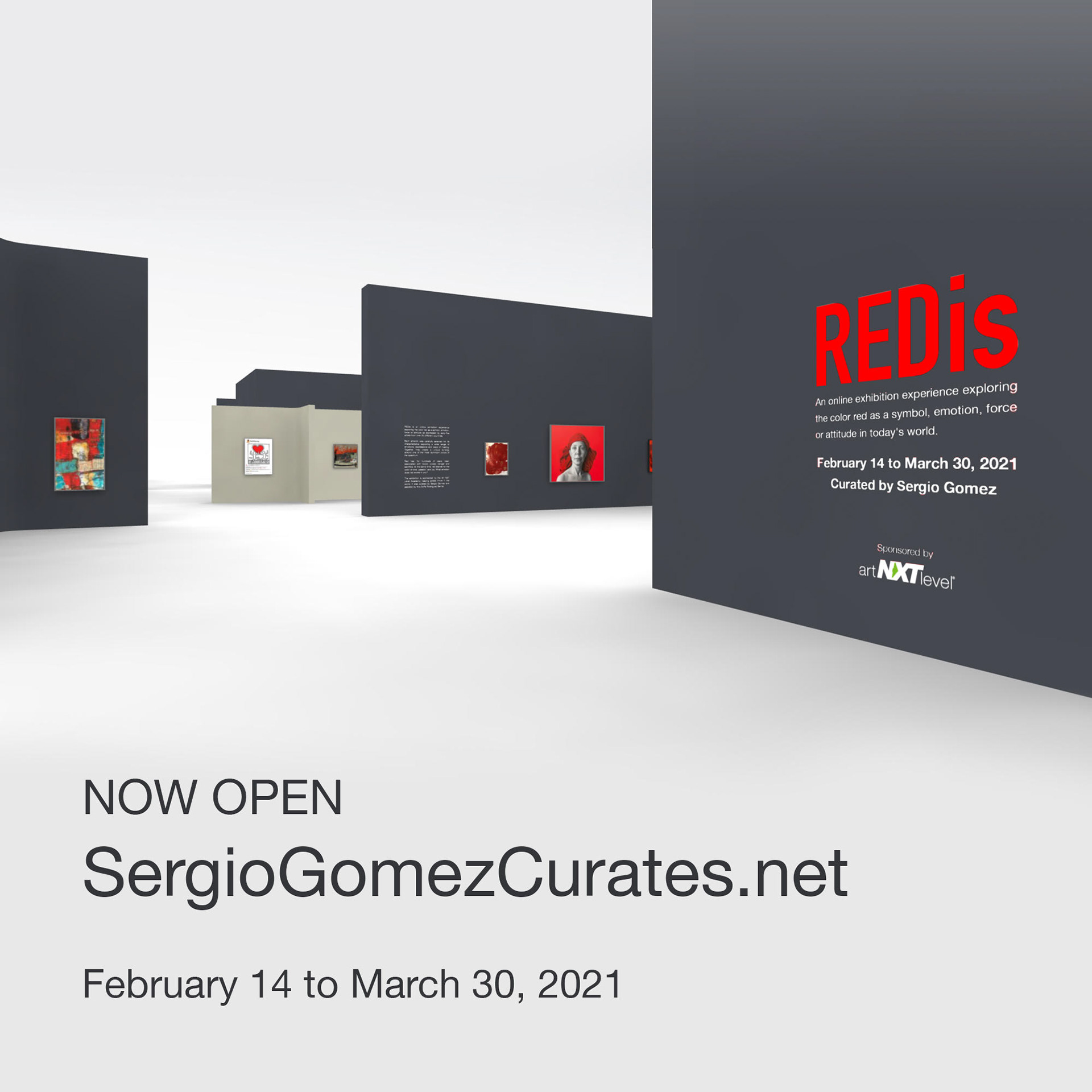 March. 4 - 27, 2021
Las Laguna Art Gallery is pleased to present our Women in Art exhibition. We aim to celebrate the works of women artists, who sadly, have been marginalized for centuries within their field. Gender bias is less apparent today yet there are still disparities and obstacles that women must overcome, along with a persistent underrepresentation in exhibitions worldwide.